Gift Nicholas II to Alexandra Feodorovna
Made in Saint Petersburg
Owner: Moscow Armoury Museum, Russia
Height: 36,1 cm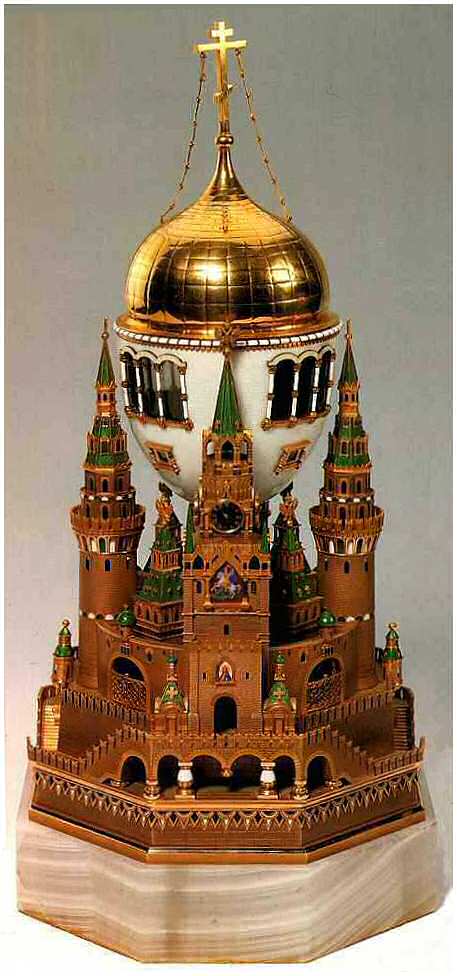 The 1906 Moscow Kremlin Egg, also known as "Uspensky Cathedral Egg" is made of onyx, quatre-couleur gold, white and green enamel, glass and oil painting.
The largest and most ambitious of the known Fabergé Eggs, represents the Cathedral of the Assumption (Uspensky) in the Moscow Kremlin where once all Russian Tsars were crowned. An enameled gold composition centered on the egg-shaped dome of the Cathedral of the Assumption, in white opalescent enamel, the interior of the church with its carpets, tiny enameled icons and High Altar on an oval glass plate, made visible through the glass windows, surmounted by a gold cupola, flanked by two square and two circular stylized turrets, the former based on the Spassky Tower, bearing the coat of arms of the Russian Empire and of Moscow and inset with chiming clocks. Two Cherubim chants, traditional Easter hymns, are played when a clockwork mechanism is wound up by a gold key, two and a half inches long.
The Egg rests on an octagonal white onyx base, designed a s pyramid and built up of smaller pyramids. Engraved at he foot in white enamel on a round gold plate is the date, "1904" (!)
Background information
The magnificent Moscow Kremlin Egg commemorates the return to Moscow of the Imperial couple in 1903. (See the 1897 Coronation Egg). They had tended to avoid the capital following the disaster during the celebrations to mark their coronation. Hundreds of Muscovites died, crushed to death, when a crowd ran amok in Khodynka Meadow. Many russians took the tragedy as a bad omen for the reign of the new tsar.
The Egg was to have been presented in 1904 (hence the date on the base) but was delayed possibly because of the Russo-japanese War. Another disaster is connected with this Egg. Nicholas II's favorite uncle and brother-in-law, Grand Duke Sergei Alexandrovich, was assassinated in the kremlin by a terrorist early in 1905, the first and only time a member of the ruling dynasty was murdered in the ancient citadel of the Moscow Tsars. This may have delayed the presentation of the Egg for a second time. Nicholas II did not receive the Egg until 1906 and the bill of sale was not presented until that year.
Despite these sad associations, the Moscow Kremlin Egg held the most prominent position in Alexandra Feodorovna's display cabinet in her Sitting Room in the Alexander Palace.
The Moscow Kremlin Egg was never sold and is one of the ten Eggs in the Armory Museum of the Kremlin in Moscow.
Update November 2016
Beautiful Images of the Egg while on view in Wien, Österreich, including a view in the coupola! Photos courtesy https://artinwords.de/die-welt-von-faberge/

Next Egg

Previous Egg
Page updated: November 25, 2016